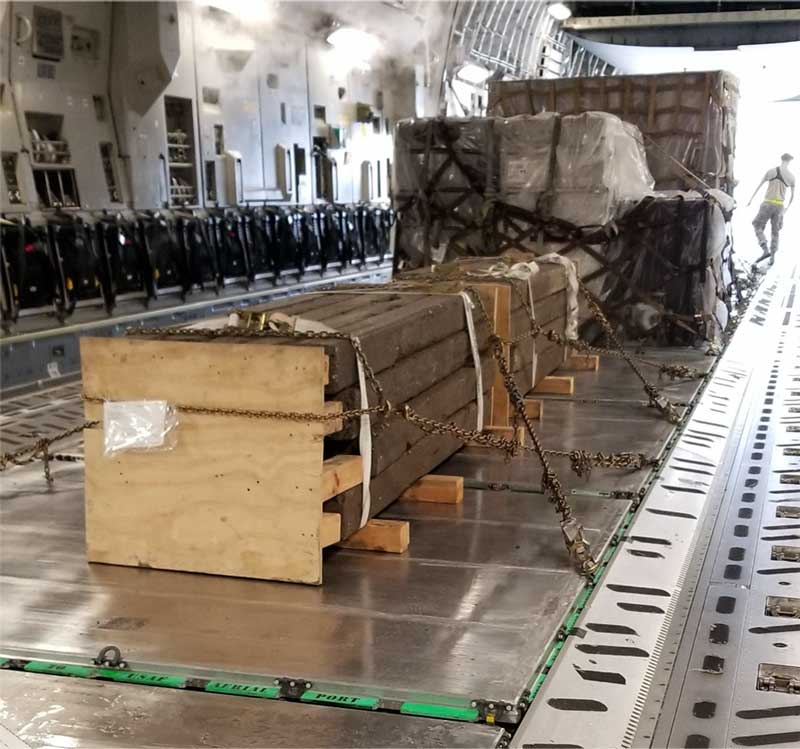 All Aluminum Construction:
Superior durability using friction stir welded construction.
No risk of delamination, increased integrity and puncture resistant.
Corrosion resistant.
Significantly reduced pallet distortion /deflection.
Increased damage resistance during combat offload and austere airfield operations.
Resolves stacking, storage and monthly inspection limitations.
Tiedown Provisions:
D-Ring capacity tested up to
11,250 lbs.
Versatility:
Improved strength, durability and tiedown capacity enables Next Generation All Aluminum pallets the ideal platform for special missions.
General:
Reduced inspection intervals.
Field/Depot maintenance actions and are eliminated.
Significantly improved readiness and service life.
463L Next Generation All Aluminum Pallet
All Aluminum 463L (HCU-6/E) Pallet is unitized 6005A-T61 aluminum monolithic construction
Rigid platform with high damage tolerance without the legacy soft balsa wood core challenges
Eliminates field repair – fully recyclable
All Aluminum Pallet Design Meets or Exceeds the New MIL-DTL-27443 Rev G 463L (HCU-6/E) Cargo Pallet Military Specifications
Specifications:
NSN: 1670-01-670-0637
Dimensions: 108" W x 88" L x 2.25" H
Tare Weight: 300 lbs.
Capacity: 10,000 lbs.
Tiedown: 22 D-rings, rated for 7500 lbs. in any directiontested to 11,250 lbs.
Pallets are Compatible with all existing 463L Cargo Systems Aircraft Including the Following::
| | | |
| --- | --- | --- |
| A-400M | C-40 | KC-10 |
| C-5 | C-130 | KC-135 |
| C-17 | C-2 (Kawasaki) | KC-46 |
| C-27J | CN-235 | C-390 / KC-390 |
| CH-53 | CH-47 | KC-30 |

2100 Market Street, Decatur, AL